HYDRAULIC HELLAS
EQUIPMENT OF ELASTIC & METAL TUBES
OF HIGH OIL & AIR PRESSURE

Since 1977, HYDRAULIC HELLAS has been active on the Greek market, specializing in the connection of high pressure elastic & metal tubes. We are the first in our industry to implement ISO 9001.




AGRICULTURAL & ENVIRONMENTAL
HYDRAULIC HELLAS

Company's staff is specialized in all areas of company's activities.
Our main priority is to provide high level of product quality & services, strictly applying the requirements of EN ISO 9001:2015.
HYDRAULIC HELLAS is proud of its long-term partnerships with leading manufacturers.
HYDRAULIC HELLAS has managed to collaborate with leading suppliers. As a result, we are able to find and offer to our customers products at competitive prices from leading brands such as GATES, DISCA, RASTELLI RACCORDI, STOPFLEX, CIDAT, ITALCUSCINETTI, PI.EFFE.CI, KONFIT, MEL TERBI, MAC TUBI, many others.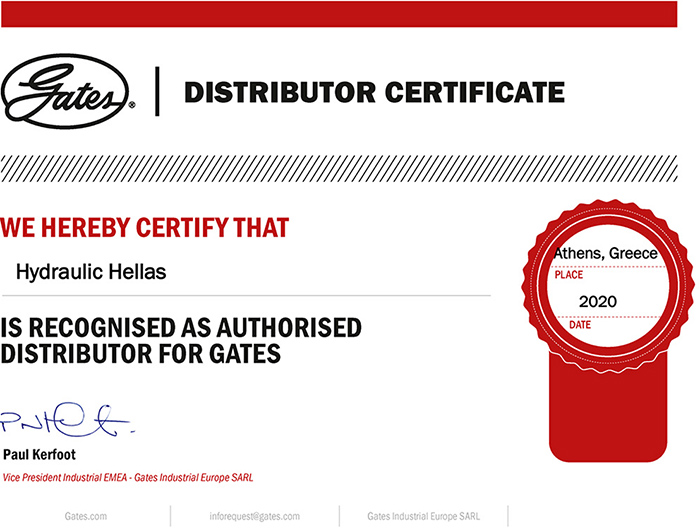 SERVICES HYDRAULIC HELLAS


HYDRAULICS
At HYDRAULIC HELLAS we are specialized in the assembly – installation of high pressure hoses. We also provide on-site maintenance services as well as re-certification of hydraulic hoses. For more information or if you wish to receive an offer free of charge, please contact us at +30 210 3466539.

PNEUMATICS
At HYDRAULIC HELLAS we are specialized in air pipe fittings and we offer solutions depending on our customers' requirements.
OUR PARTNERS

YOU WILL FIND US